RELIEF EFFORTS
Food is a basic need for all human beings and thus the Amrit Foundation has been involved in Corporate Social Responsibilities (CSR) programs such as famine relief efforts that specifically target the communities around the group entities and other counties.
During periods of famine, displacement due to floods or the covid-19 pandemic, Amrit Foundation Trust has played a part by continuously supporting and participating in various food donation drives over the years to under privileged communities.
The group will continue to diversify in the food production at Aquila Farm and participate in sustainable feeding programs to a wider community. Some of the foundation's initiation in education include:
VICTIMS OF LAKE NAIVASHA FLOODS – NAIVASHA
The foundation has continued to play a key role in relief efforts towards families affected by floods in and around Lake Naivasha area through donation of food items, sanitary towels and clothing. The foundation also supports special needs persons in the neighboring community.
PRAYERS BEYOND BOUNDARIES (PBB) – MAAI MAHIU
Prayers beyond boundaries is a children's orphanage that was established with an aim of rescuing children who had been orphaned due to post election violence. The orphanage strives to ensure as much as possible to ensure safety and well-being of the children. Our support includes provision of food items, sanitary towels among other initiatives.
HOMELESS OF NAIROBI – GACHIE
In the spirit of giving back to the society and in line with the mission of the Amrit Foundation Trust; Eka Hotel continues to support the Homeless of Nairobi Children's Home located in Gachie, Kiambu County through donation of food items and clothing.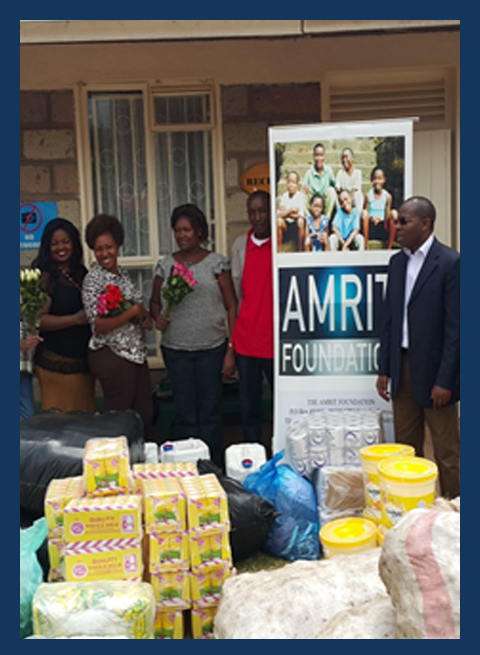 KWETU HOME OF PEACE – NAIROBI WEST
This is a rehabilitation center for street boys between the ages of 8-14 years, established in 1993 in response to the increasing number of children on the streets of Nairobi. Kwetu's goal is to "ensure that street children are rehabilitated and developed to their full potential to become productive members of our society". Eka Hotel in conjunction with the foundation continues to support the home with food items, bedding among other donations.
To actively participate in any of the above noble endeavors, contact the Amrit Foundation Trust and we will be more than happy to provide further details and information.