The Amrit Foundation Trust
Food donation drive in conjunction
with our Partners

The Amrit Foundation Trust
CSR drive in conjunction
with our partners

The Amrit Foundation Trust
Food donation in Amboseli
in conjunction with our partners

The Amrit Foundation Trust
Food & linen donation exercise at
Thika School for the Blind.
The Amrit Foundation Trust
Donation of wheelchairs at
the Aquila Flower Farm in Naivasha.
The Amrit Foundation Trust
The strife and suffering experienced by communities and in particular children across Kenya, led to the establishment of the Amrit Foundation Trust, a private foundation driven by our dedicated passion for social work. This was a key stepping stone towards the Manrik Group's continued commitment to our philanthropic ventures.
We are a non-profit social, charitable organization, working purely in the interest of empowerment, advancement, well-being and education of the less fortunate individuals in our society. Our transparent operations are free from caste, creed and gender affiliations. We promote zero tolerance for corruption and misappropriation within the foundation. Our objective is to develop mutual trust and integrity among Amrit Foundation partners and volunteers as these are fundamental to the manner in which we operate.
Amrit Foundation works on a social venture philanthropy model. Our core competencies that make a strong foundation for our projects are sustainability, accountability, credibility and effective leadership.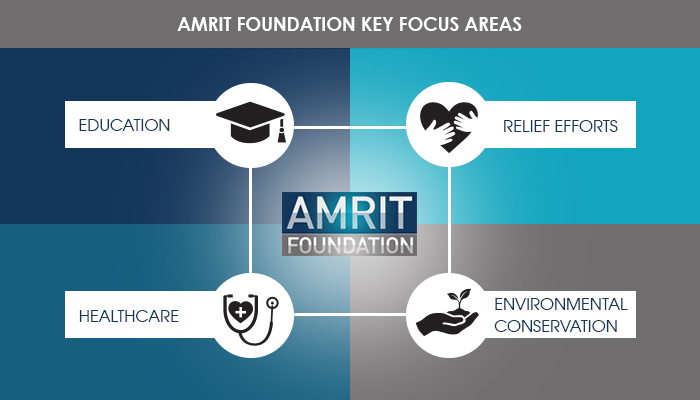 Our aim is to develop grass root initiatives in the areas we work in translating our corporate social responsibility.  The Manrik Group has over the last twenty years worked on and funded various projects successfully by channeling funds for the betterment of the communities in the form of education, healthcare and environmental conservation.