HEALTHCARE
The health and well-being of our employees and communities is critical to the Manrik Group and has been promoted both internally and externally through the Amrit Foundation Trust. Internally, the management has organized for employee medical insurance covers, which are supported by in-house medical clinics in some of the units.
Externally, medical camps are run with the joint support of other partners. In Amboseli with the county representatives conducts periodic health talks and medical check-ups. Medical camps are also conducted in conjunction with other partners and volunteers from various countries. Amrit Foundation Trust has also made contributions towards children requiring heart operations both locally and overseas. In addition, the management has supported sports initiatives like soccer and volleyball teams in some units to keep staff motivated and healthy.
Our relief efforts initiatives include:
PRAYERS BEYOND BOUNDARIES (PBB) – MAAI MAHIU
Prayers beyond boundaries is a children's orphanage that was established with an aim of rescuing children who had been orphaned due to post election violence. The orphanage strives to ensure as much as possible to ensure safety and well-being of the children. Our support includes provision of food items, sanitary towels among other initiatives.
NYUMBA YA WAZEE – KASARANI, NAIROBI
The home hosts elderly people in the community mostly from the age of 76 and above. It is important to note that the home depends on well-wishers and donations to ensure that they are able to meet the day-to-day requirements of the elderly members. The foundation supports this home through donation of food items, cleaning detergents as well as having a sharing session with the elderly and their caregivers.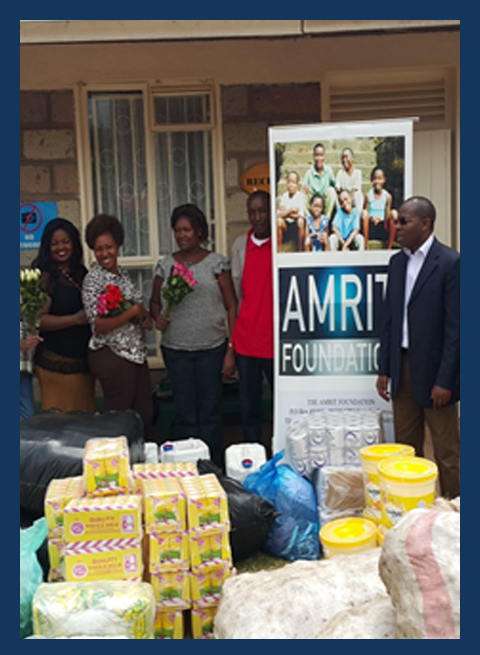 KWETU HOME OF PEACE – NAIROBI WEST
This is a rehabilitation center for street boys between the ages of 8-14 years, established in 1993 in response to the increasing number of children on the streets of Nairobi. Kwetu's goal is to "ensure that street children are rehabilitated and developed to their full potential to become productive members of our society". Eka Hotel in conjunction with the foundation continues to support the home with food items, bedding among other donations.
HOMELESS OF NAIROBI – GACHIE
In the spirit of giving back to the society and in line with the mission of the Amrit Foundation Trust; Eka Hotel continues to support the Homeless of Nairobi Children's Home located in Gachie, Kiambu County through donation of food items and clothing.
VICTIMS OF LAKE NAIVASHA FLOODS – NAIVASHA
The foundation has continued to play a key role in relief efforts towards families affected by floods in and around Lake Naivasha area through donation of food items, sanitary towels and clothing. The foundation also supports special needs persons in the neighboring community.